Shop and pay safely online
Cleaning and disinfection in the food industry
Poor hygiene can have major consequences in the food industry. There are therefore strict regulations and quality requirements for the production of foodstuffs. To reduce risks, it is very important that hygiene is maintained. We help you with this by offering the right resources and methods. Together we make an inventory of the work area and the risks in the field of hygiene. In this way, we ensure that your installations are clean and free of harmful bacteria, fungi, and viruses.
Food safety and hygiene
Food safety is extremely important in the food industry. This is achieved through the use of the correct raw materials and rigorous quality controls. However, if hygiene is poor, food safety is still reduced. Therefore, a large number of food safety incidents take place every year. Proper cleaning and disinfection are therefore indispensable in any food production process.
HACCP system
HACCP is a method for checking whether products pose possible risks to the health of consumers. This is a well-known concept within the food industry. Companies that produce food are obliged to implement a HACCP system. We have therefore developed products for cleaning in food environments, which are perfectly applicable within any HACCP system.
Biofilm in food production
Biofilm is often formed during the production of food. Biofilm is a hotbed of bacteria that forms on surfaces. In the food industry, this is done, for example, in cooling systems, storage bins or pipes. Biofilm deteriorates the quality and use-by date of foods and therefore has major consequences for the production process. Biofilm is difficult to remove. It is therefore also important to ensure proper cleaning and disinfection to prevent the accumulation of biofilm as much as possible.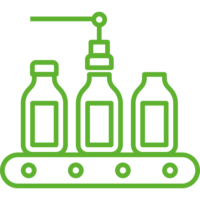 Food industry legislation and regulations
Many laws and regulations are involved in the production of foodstuffs. For example, there is the Dutch Food and Consumer Product Safety Authority, which carries out food safety controls. In addition, products must be registered, so that everything is traceable. If a bacterium is discovered in a particular ingredient or product, it is immediately clear which other products are also contaminated with it. Quality marks often show which requirements foodstuffs meet.
Measurably clean in the food industry
A production environment can look clean, but not be hygienically clean. To ensure a hygienic environment, it is important to measure and monitor the results. We help you find the right resources and methods so that you can easily make the results measurable. This is how we work together on carefree cleanliness.