Shop and pay safely online
Cleaning and disinfection in the water industry
Clean drinking water is essential. Companies in the water industry, therefore, have an immense responsibility. We are committed every day to improve the quality of drinking water with innovative, environmentally friendly products. We supply products for cleaning and disinfection of water pipes and water sources and is an expert in the field of legionella control. The start of clean drinking water is a clean environment.
Cleaning in the water chain
The water chain has various components with specific maintenance instructions. Cleaning and disinfection are important in every part, but not the same. Filter beds, pipes, and filters can become contaminated with, among other things, lime, iron, and manganese. There may also be persistent micro-biological contamination. We have developed special products for all these problems. We are happy to advise you on which products suit your situation.
Hygiene in water networks
Within a water network, there are many parts that can become contaminated. Consider, for example, reservoirs, ratchet rings, or spray heads. Pollution in one part can spread throughout the water network. Hygiene is therefore something that you have to deal with continuously. We have developed special products for cleaning and disinfection in the water industry. Our products do not contain any fragrances or dyes that can adversely affect water quality. This prevents bacteriological contamination in your water network.
Fighting Legionella in drinking water
Drinking water is safely supplied to the water meter in buildings. From there it is up to the building manager to guarantee safe water. If water stands still for too long, the legionella bacteria can cause major problems. Legionella is difficult to combat, but control is very essential. We supply various products with which you can effectively and easily remove legionella from drinking water, even with large numbers of legionella bacteria.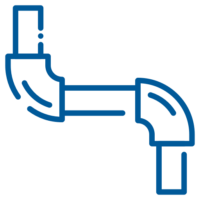 Responsibly cleaning drinking water
Cleaning and disinfecting drinking water entails great responsibilities. It is therefore essential that the products you use meet the highest quality requirements and legislation. All our products for the water industry have special approvals and certifications. With this, we guarantee that our product is safe to use. Our product is also environmentally friendly. With continuous quality controls, we ensure that all our products meet the highest quality requirements, so you have the certainty of carefree cleaning.
Transporting water
Water has come a long way before it reaches the end-user. Providing guaranteed clean and pure water is therefore quite a challenge. We are therefore committed to keeping the quality of drinking water high. With our specialist knowledge, we transfer the high quality of Dutch drinking water to other countries. With our cleaning and disinfection products you, therefore, reduce the risks of transporting drinking water.